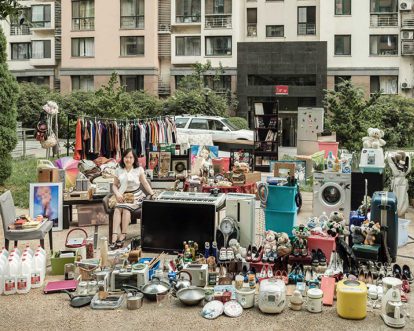 In Space Doctors' recent discussions with clients in sectors like insurance and financial services, the question of 'ownership' continues to be raised. Alongside the rising tide of making serious changes to secure the future of our planet, individuals and society-at-large is questioning the notion of ownership in new ways.
Thus, we see the context of ownership shifting dramatically in culture at the moment. For many people the idea of home ownership seems ludicrous as prices continue to rise dramatically forcing ownership out of the reach of many who struggle to find even their deposit. Even if we 'can' own things we are starting to question if we 'should'. Marie Kondo and others are asking people what and why they own things. Additionally, the rise of more nomadic aspirations for young people can make home ownership a burden rather than a goal. And the borrowing economy overall is really taking-off, from bikes to cars to tools in a community, with that easy access it begins to feel irresponsible to own many of these things. Given the changing meanings and impact ownership has on so many of us, we wanted to map out the change from a cultural and semiotic perspective to help us better understand the impact and ask smarter questions.
Residual Culture– Ownership as Power
For a long time, our ownership made us legitimate members of society – owning property allowed us to vote, it illustrated the contribution we made and demonstrated the power we had, it tied us to the land we lived on and populated it with the things that told the story of our lives. As in Huang Qinjun's photo series Family Belongings, where he illustrates how people's lives are displayed through the contents of their house. Ownership and these objects made us who we are.
'They put up houses and barns, they turned the earth and planted crops. And these things were possession, and possession was ownership'
John Steinbeck (1939), The Grapes of Wrath
In this context, ownership was capital and capital was power. Therefore, the role of Insurance was to protect us from the risk of losing our things, our belongings, our legitimacy and, ultimately, our power. The role of financial services and loans was to help us create power when we didn't have the current means to do so.
These ideas are still familiar to us and guide our behaviour – for many, homeownership is the ultimate goal to invest our money and secure our future, e.g.in 2016, Shanghai saw queues forming at marriage registration offices to file for divorce in response to a rumoured piece of legislation that restricted second home purchase. But they are also starting to feel less relevant to our lives. House ownership is increasingly difficult for many in a context where ownership is being concentrated in the hands of the few rather than representing a goal that everyone can aspire to; in the UK, half of children born in 2018 were born in rented accommodation. As this version of ownership begins to feel less relevant, it becomes residual culture.
Dominant – Facilitated Ownership
"The reality is ownership is dead; now it's really about access as the new imperative"
Tien Tzuo, Zuora CEO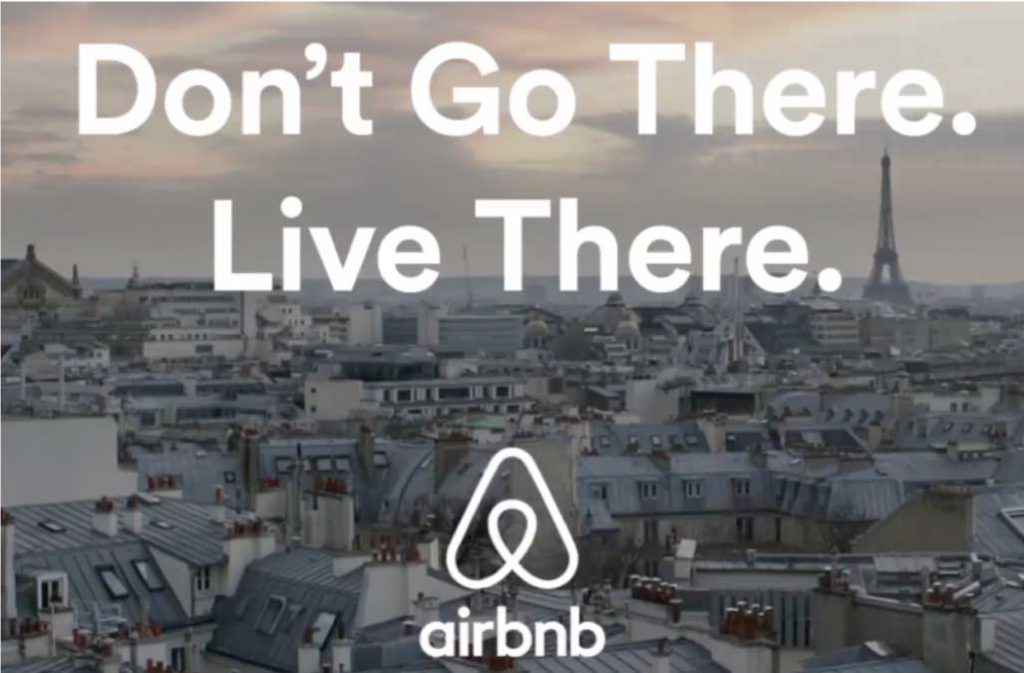 Image credit: airbnb's 'Don't go there. Live there.' Campaign
The growth of social media has laid the foundations for a boom in the value we place on experiences. We don't want to be limited to the potential of our surroundings; we want to access more. We want to watch all TV shows (Netflix), listen to all music (Spotify), play all the latest games (Xbox Game Pass), drive a new car (Zipcar) and have a beautiful home in every city in the world (airbnb). We want to experience a far greater spectrum of things than we could possibly own by ourselves.
The subscription economy has further facilitated this new version of ownership; a way to maximise access and expand our experiences. Ownership has been reinterpreted. We can turn our ownership off and on when we want. In this context, ownership carries less risk to consumers as it is more curated and suited to our lives and is, ultimately, more disposable.
Despite this profound cultural shift to the meaning of ownership, the infrastructure that supports it is failing to keep pace. The insurance sector, for instance, tends to insure the owner, less so the user of the product or service. For example, Uber and other car share drivers, are not as protected as the fleet owners. This problem is compounded when we think of the significant growth of users as part of the P2P sharing economy – those who rent out their own car with services such as getaround in the US are vulnerable in a system that hasn't evolved to meet their needs.
Fundamental questions now exist: Do we need home or car loans in a subscription economy? How are financial services changing to help facilitate our desire for experience? The P2P sharing economy is expanding to include finances, services like Zopa and Funding Circle open up access to loans and investments.
The rate of change is rapid and disruptive; over the last 7 years companies in North America, Europe and Asia Pacific have witnessed a 300% rise in sales of subscriptions, indicating a significant shift in focus for consumers and businesses alike. In the face of these developments, insurance companies and financial services need to pivot to act as a facilitator. 'Product' manufacturers need to consider subscription services and what experiences or access they might offer beyond just 'more stuff'. We need to see a shift to insuring and facilitating usership as much as provisions for covering the risk of or access to ownership.
Emergent – Maximising Usership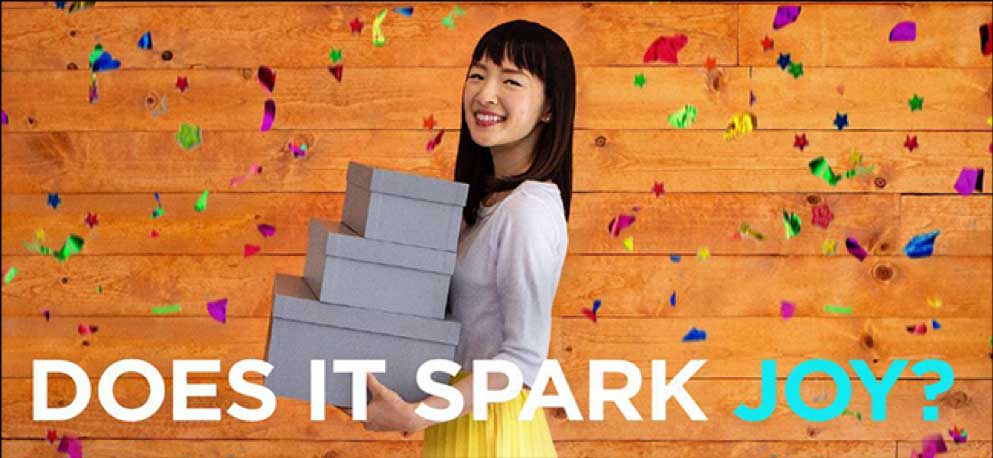 Marie Kondo's book and Netflix series encourages the reduction of ownership to grow happiness – challenging owners everywhere to think: do the things I own bring me joy? Image credit: Netflix
The future of ownership is heavily tied to conversations around what is good for us, both as individuals and our happiness, and for the world and its environment.
It is becoming increasingly apparent that excessive consumption is causing an issue that consumers are demanding answers for and solutions to.
Interestingly, we are seeing the emergence of a joint assault on excessive ownership. On the one hand our planet and its future is threatened by excess waste and the resulting pollution; and on the other, our happiness is being smothered by too much disposable ownership and not enough value (Marie Kondo's The Life Changing Magic of Tidying Up).
It is important to confront head-on the impact of excessive ownership on our collective futures. This will become the arch villain of future ownership – the production of which will be punished and the eradication of it rewarded and celebrated.
The effective responses to these issues are focused around systems that maximise the use we get from the things we own – empowering usership rather than ownership.
Usership Over Ownership
Consumers who have grown accustomed to sharing products and services in the dominant, will embrace shared ownership as the infrastructure that provides it grows – we are even hearing about Library of Things (LoTs) being built into plans for new housing developments.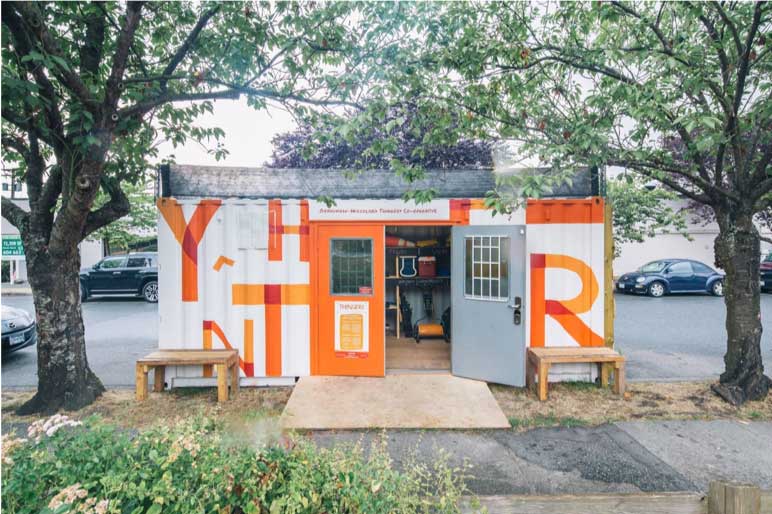 'The Thingery' in Vancouver, a community owned lending library of things. Image credit: The Thingery
'The Thingery' in Vancouver, is one such LoT; a community-owned centre that allows users to borrow a variety of products, from gardening equipment to musical instruments. The exact content is curated by the community that uses it and, in this way, it becomes a collection of things that are most useful to those in the community.
The Whole Life
Maximising the amount of usership is not only increasing the density of use but is also about taking responsibility for maximizing the total lifespan of the things we own – collectively as manufacturers, users and insurers.
Companies such as Apple are beginning to think about the products they put into the world at all stages of their use, including that of disposal and recycling. Daisy, a specialised robot, was debuted in 2018 with the capacity to recycle individual elements of 200 phones an hour.
New notions of ownership are created when manufacturers have to take responsibility for not only making the product they sell but unmaking it as well. Other organisations such as Giab, partner with insurance companies to ensure that faulty electronic goods are repaired, reconditioned and resold rather than disposed of.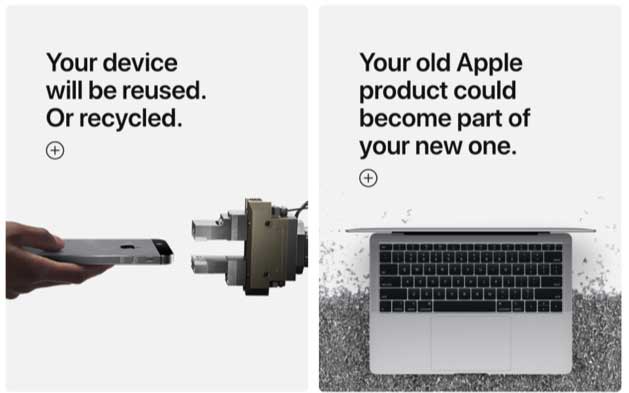 Apple's Daisy the Robot, recycles 200 phones every hour, harvesting elements to reuse in new products. Image credit: Apple
What's certain about the changing culture of ownership is that consumers are increasingly galvanised, ready to act and expecting to see changes in the systems that have failed them in the past. And whilst ownership is not going to be replaced entirely (there will always be room for family heirlooms) the social status and power attached to ownership is fading and the value they hold will be less transferable to others.
Consumers are looking for brands that empower usership over ownership. They want to see brands working with other actors (companies, retailers etc.) to encourage people to own less, use a product for longer, repair and reuse. There is a key opportunity to win consumers' trust by making ownership about giving and not taking to create healthier people and a healthier world. A company that joins this conversation in its current nascent state will be well positioned to shape the future.
A summary of the evolution of 'Ownership' in Culture
[su_table responsive="no" alternate="yes" fixed="no" class=""]
Residual
Ownership is Power
Ownership is an expression of our identity, a demonstration that we are a part of society.
We aim to protect our possessions in order to protect ourselves.
We value possessions because it defines who we are in society.
Dominant
Facilitated Ownership
The horizon of our desires is expanding in a context where ownership in a traditional sense is more difficult; we want to have access to everything, whenever we want.
Our desire for experience is fostered by organisations that facilitate the ownership of anything.
We value access and experience because we want variety and experience – driven by lack of resources and space to satisfy our desires.
Emergent
Maximising Usership
Excessive ownership is damaging both our own happiness and the health of our environment.
In a bid to urgently reduce waste, ownership is being superseded by usership. This includes taking responsibility for the total life of goods – from making, giving back, unmaking and remaking (zero waste).
We value usership because we seek to get more out of the things we use; driven by a need to look after our environment and ourselves.
[/su_table]
So, what could this mean for your organisation?
We think there is a real opportunity to be at the forefront of cultural change; encouraging new behaviours, setting the precedent for healthier consumption and ownership, both for individuals and for the planet.
As businesses play a more active, positive and transformative role in the future, how can your organisation respond responsibly and engender positive action and behaviour?
As the ownership model shifts to one of usership, how can you help protect or facilitate the longer usership of goods?
How can we encourage customers to be more accepting in sharing the things they use and own?
Can we shift the conversation to be more about creating better experiences and less about 'stuff'?
How can we create an expectation that the products we use will have multiple lifecycles that in turn is going to facilitate increased usership?
In short, how can your organisation take responsibility for the future, like never before?
Image credit: 黄庆军 Huang Qingjun, Family Stuff