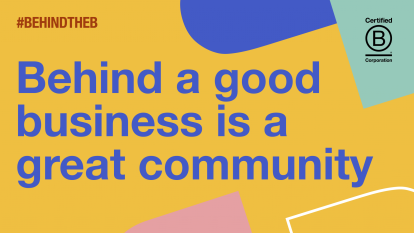 Space Doctors is an engine that runs on our obsession with culture. And that can't function or thrive in a vacuum. To really nurture a healthy and successful business environment, we have to nurture the health and success of our wider community environment. That's why we've made an ongoing commitment to deliver 'Active support for our local communities' as part of our B-Corp certification.
In numbers, this commitment looks like 0.5-1% of our annual revenue going to charity, and 0.1-0.9% of our time spent volunteering, with a goal to increase this to 1-2.5%. In less measurable (but just as important) terms, these KPIs support an inspired and connected company culture based on compassionate values and real community action.
As an international organisation, we have the privilege of being part of multiple local communities. This means holding onto our B-Corp status involves sustaining engagement across all of our locations, making sure each of our offices takes part in its own range of varied volunteering opportunities.
It's important to us that the initiatives we support are locally relevant and fit within our spheres of interest in education and sustainability. This way, we know we can really apply our skills and have the most impact. We're particularly inspired by the work our director of strategy, Mariah, does with Sussex-based organisation, Little Green Pig. Mariah volunteers as a 'story mentor' at their events and after school clubs, helping to run a mix of writing activities and exciting immersive experiences that spark the power of imagination. 'I get so much out of it', she reflects. 'The joy of writing and imagination connects us, we all get to leave 'rules and structure' and just see where our creativity takes us!'
Helen, one of our project coordinators, has been volunteering with The Whitehawk Afterschool Project since 2018 – a life changing resource for children in one of Brighton's most disadvantaged areas. While volunteering at WASP, Helen supports the team to create a friendly and supportive space for play, creativity and movement, and Space Doctors supports WASP with on-going financial and strategic support to help sustain and revamp their resources and activities. Helen tells us that 'seeing the kids come out of their shell and their confidence grow is heartwarming. The whole experience keeps me so grounded and I always come away having learned something. The fact that Space Doctors gives every employee the chance to spend half a day per month working with charitable causes is so worthwhile.'
Our finance director, James, is living our sustainable values by volunteering with Forest of Avon Trust, helping them with tree planting, woodland wellbeing and other activities that bring the benefits of trees to people across the West of England. And our London team are mentoring a group of amazing young people through Envision – a local school partnership that develops young people's employability by empowering them to tackle real-life social problems and challenging professional contexts.
We also recognise that the expertise and resources available to us as a creative consultancy give us a very powerful platform. As a B-Corp, we have a responsibility to extend the tools of semiotics and cultural insight to where it can make a meaningful difference. The pro bono work conducted by our Singapore team, for example, supported Food From The Heart with an audit and brand positioning that helped them make more impactful messaging to boost their influence and attract community support.
These are just a handful of the initiatives we're lucky enough to collaborate with as part of month-to-month life at Space Doctors. Each organisation does incredible work to support the communities we live and work in, and they've welcomed us with open arms. Each has taught us so much, but we want to keep learning. A core part of our ethos as a B-Corp is our ambition to keep doing better, and we're currently aiming to get closer to 50% of the business community volunteering with an even wider range of charities.