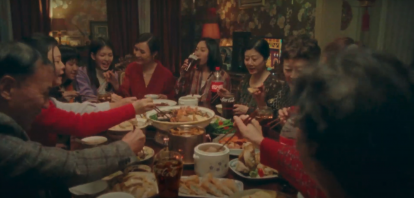 For the second year in a row, Chinese New Year is a muted affair. This year, people are more settled in the new normal, but are truly missing human connections, finding virtual proxies to replace it. In this context, brands are facing a cultural conundrum; how do we stay relevant to a culture in which traditional festivals are forced to be anything but traditional?
We've deconstructed how brands such as Alipay and CocaCola, have connected at a deep level by focusing on the meaning of rituals and micro-moments, but global icons, like Apple, have missed the cultural mark, despite mobilising big name filmmakers and grand storylines.
Alipay – leveraging cultural rituals for seamless digital user experience.
Hongbaos* and 福fú* are the most ubiquitous signs of CNY; auspicious symbols of blessings and good fortune, integral to new year rituals, home decorations and seasonal brand activations.
This year, Alipay have pushed the (red) envelope further with the very human centred experience of creating and collecting fú with family and friends; signalling one's good fortune for the year. People can write their own fú in calligraphy and Alipay will print them and send to users' hometowns, capturing the sentiment of receiving fú from the family, despite not being able to travel to be with them.  Alipay has linked this with 'Ant Forest' – an award-winning green initiative and proxy for loyalty rewards. Users can grow fruits in a digital farm with green energy points that can translate into a real basket of fruits from local farmers – simultaneously creating intimacy between distant family members, connection to local produce and facilitating sustainable behaviour.

Users "Collect 'fu''s, virtually with friends and family members. The app encourages people to scan "fu" characters wherever they see them, i.e. logos, home ornaments, etc and facilitates togetherness by completing tasks on Alipay with a team of friends or families. Image credit: Alipay.
Here, through the seamless integration of online and offline experience, Alipay has captured the spirit of connection and gifting that characterises the experience of Lunar New Year that has been denied to us this year – staying relevant by creating practical and emotional solutions to help consumers navigate a familiar event in a new context.
Coca Cola – going beyond cultural cliches.
Every year, brands try to connect with younger generations by depicting the obligations of Chinese New Year. The common trope has been to show how young people tolerate the numerous family reunions; the overbearing aunt or the intrusive grandma asking them questions about their personal lives, only to remind young people of the personal and cultural values of connecting with older generations.
Coca Cola portrays micro-moments like relatives sleeping over, running errands to the store in the cold, trips on a bumpy road, making rice dumplings in grandma's kitchen etc as precious moments that are now sorely missed, from the point of view of the youngster. Image Credit: CocaCola.
Coca Cola was quick to adapt to the changing sentiments of the youth, who now see that, in their absence, the obligations of their annual family reunions are something that they miss. 'CNY confessions' shows three young people who had taken their families for granted in the past. The stories are powerful, not only because of its representation of the everyday micro-moments and mundane occurrences that now have new significance, but because the narrative focuses on people navigating their own experiences of CNY, rather than adhering to a grand, sentimental idea of what it is supposed to look like. These 'confessions' are 心声 – our true desires – personal reflections of the sentiment of CNY from an individual's perspective rather than an assembly of cultural clichés. In depicting the change to these everyday moments, Coca Cola creates a space to reflect new, normal, experiences, whilst ensuring that it can still play a role in injecting optimism and a warm sense of togetherness.
Apple – Novelty or losing relevance?
Apple has continued its legacy of launching a CNY short directed by an award-winning director, this year: Lulu Wang. Shot on the iPhone, the story puts a fresh twist on a well-known Chinese fable of the 'Nian' monster.
This well produced film has a Ghibli-esque feel in the way it celebrates a child's open, fearless and unbiased mind, whilst also alluding to shifting values we see in 'parent-child' relationships as being less controlling and more collaborative. However, despite a few superficial scenes of fireworks and dragons, we're struggling to find a cultural relevance with the values of Chinese New Year, particularly one that is relevant to consumer's experience over the course of the last year – a sentiment shared by many netizens.
Many comments on Chinese social media criticize the film for being nothing more than a grand display of the iPhone's low-light features, accusing the brand of 'showing off' and lacking the "taste" of Chinese New Year (nian wei-年味).   "@枫之舞的海洋: In my personal opinion, I think it's not as good as the previous ones, this is a film to show off Apple's camera." Image credit: Apple.
Here we see Apple failing to create a message that is relevant to either the fundamental principles of Chinese New Year, or the changing cultural landscape around it – demonstrating that brands, even in creating fantasy escapism, need to be able to reflect cultural change in order to connect to consumers without seeming just like an advert of a product's features. 
These examples show us that you don't need big names or mega productions to connect with people. The most effective campaigns reflect the changing cultural landscape and mirror our experience within it. When your brand resonates with the shifting cultural values it can create distinction within the category and, more importantly, become a tool through which people can navigate a changing world.
Notes:
* Hongbaos: Red envelopes filled with money to wish good luck in the New Year
** Fu: 福 represents happiness, blessing, good fortune, and auspiciousness; traditionally, people put the calligraphy of "fu" character as home ornament upside down, as it means "fu" has arrived in Chinese.
Image credit: CocaCola
For more like this straight to your inbox, sign up to our newsletter.