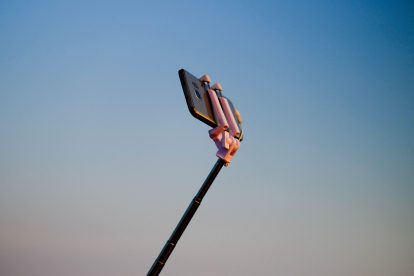 The industry has adapted the selfie for its own ends, but has perhaps missed some of the deeper desires it reflects.
Asia leads the world in selfie-taking, according to a 2014 study by Time magazine. Four of the top 10 "selfiest" cities are in Asia, a find hardly surprising given that over half of the world's social-media users reside here. Selfie culture has become so dominant in Asia that two global smartphone giants, China's Huawei and South Korea's Samsung, compete with front-facing camera specs and ownership of spin-off category terms like "groufie" and "wefie", respectively.
Naturally, the obsession over achieving the perfect selfie has culminated in beautifying image technology as vanity gains new social currency. With Samsung's recent default "Beauty Face" mode for its front-facing cameras, Huawei's built-in front-facing camera filters and the billion-dollar valuation for China's selfie-editing app Meitu, Asian selfie culture has spawned its own beauty industry.
As Asia's popular culture leader, South Korea wields the biggest influence on beauty standards. Korean cosmetics account for nearly a quarter of China's cosmetic imports, and Korea's cosmetic exports have enjoyed astronomical double-digit growth annually since 2010. In the fast-growing Asian beauty market, the archetypical Asian selfie-taker becomes a key target audience. The cute 'v-line face, enlarged eyes, and fair-skinned look' popularised by Korean female celebrities is consistently imitated in Asian selfies. Correspondingly, Asian and Western beauty brands such as Mamonde and L'Oreal have sought celebrities who epitomise this ideal, like Park Shin Hye and Fan Bingbing, to be Asian brand ambassadors. These celebrities, needless to say, are prolific selfie-takers.
Selfie culture and the beauty industry are rooted in a desire to look good. As the most socially significant, and foremost means of self-presentation today, selfies reflect deeper desires for interpersonal connection, individual visibility and greater control of self-image. Beauty brands in Asia have cleverly responded by using selfies themselves and selfie-bait to establish a personal rapport with consumers. Selfie-styled campaigns like Shiseido's 2015 Japan campaign with Lady Gaga's selfies inspired selfie-taking, which seamlessly integrated the consumer into the brand image. Edit9, a Korean face-pack brand, rode to Instagram selfie fame with charming sticker-like masks that guaranteed user-driven buzz. Big-name Western beauty brands like Estée Lauder and Clinique have managed to succeed in China partly due to savvy campaigns pushing brand stickers on Nice, China's Instagram replacement app, thereby fuelling selfie-taking. Above all, such tactics drive makeup sales, rising by 13 percent globally in 2016 as more consumers turn to makeup for a selfie-ready, instant beauty fix.
While the #NoFilter and #NoMakeup selfie trends may seem antagonistic to the beauty industry, makeup philosophy in Asia, led by K-beauty ideals, has long centered on natural beauty. Unlike in the West where heavy makeup of the Kardashian kind is extolled, in Asia, makeup is seen as an enhancer of natural beauty. Korea's invention of the cushion compact was so revolutionary—over 50 million units sold globally in less than a decade—mainly because users could now achieve the "mul-gwang pi-bu" K-beauty ideal (literally, water-bright skin) nearly effortlessly. Meanwhile, by converting Western consumers to natural beauty, the  #NoFilter and #NoMakeup trends may be fuelling the growth of Asian beauty brands. With Asian beauty brands expected to account for 80 percent of global cosmetics revenue gain by 2019 and Asian makeup sales to surpass US$150 billion this year, according to a report by Euromonitor International, it appears that beauty brands in the region are on the right track.
Selfie-compatible campaigns have helped beauty brands in Asia thrive in a saturated market. By creating opportunities where consumers intuitively want to take a selfie and share it, these brands elevate the consumer from a traditionally passive role to an active brand participant. In the all-important brand-user conversation, the consumer is now protagonist.
By perpetuating a homogenised beauty standard however, Asian selfie culture undermines the impetus behind selfie-taking and applying cosmetics: self-fashioning and self-discovery. It also intensifies industry competition. Instead of traditionally dictating appearances, beauty brands should reposition themselves as agents that empower consumers to define their own looks. Laneige's 'Beauty Mirror' app and L'Oreal's 'Makeup Genius' app, which allow user to virtually try on makeup in selfie-mode and share different looks on social media, are great examples. The disposability of selfies is used to showcase product diversity and educate on product usage. It harnesses the accessibility and spontaneity of selfies to market products as user-friendly—all of which encourage purchase.
The beauty industry's compatibility with and swift adoption of selfies demonstrates that it is poised to lead the evolution of selfie technology into virtual, animated and interactive imaging. Mobile beauty apps are already a booming industry: ModiFace, the world's leading mobile beauty firm, has more than 40 million downloads for its apps. Such developments will strengthen brand-consumer partnerships through facial mapping, data capturing, the creation of user-driven content, and greater selfie-sharing and brand responsiveness. As a medium, selfies are a valuable big-data cache for beauty brands constantly seeking to refine product ranges and anticipate consumer needs. There is additionally huge potential for collaboration between the beauty, consumer electronics and tech industries, where smart furniture like selfie-mirrors and selfie-lights are gaining traction. For beauty brands today, seflies embody new media, marketplace and incubator.
—Rachel Ng
Originally published on CampaignAsia