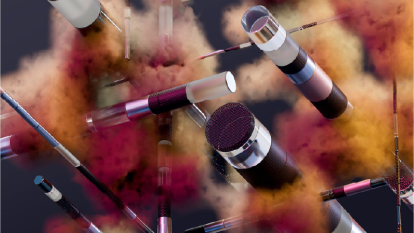 How Space Doctors helped Saffron harness imagery, narrative, and culture for one of the biggest brand relaunches in digital memory
While global design agency, Saffron, were working on the launch of Meta – Facebook's new company brand – the pressure was on to make this the most significant digital relaunch of (at least) this year. To ensure no details, opportunities, or meaningful moments were missed, Saffron turned to Space Doctors to help them understand the vital role of colour and emotion when crafting a definitive identity to bring in a new era of digital immersion.
In designing the 'metaverse', Facebook were trying to push the limits and lead the future of social media and the immersive digital environment. Reaching beyond the screen, metaverse design principles should inhabit the entire canvas of the user's imagination – from the air you breathe to the light on your skin. Keeping in touch with Facebook's core social values, this world had to be built on foundations of connection, empathy, and possibility.
We began this journey by researching the cultural codes of digital natives, how colour plays an emotional role in their lives, and how we could call upon their vibrant creative energy to define this digital frontier specifically for them.
We then dug deeper into the design codes of virtuality itself – how light, interactivity, energy, and motion unfold across the spectrum of VR/AR and MR to create a narrative meaning that would speak to the social essence of the metaverse.
To focus our insights, we synthesised the two research pieces into unique colour worlds detailed through imagery, texture, narrative and cultural context. Now armed with an intricate visual outline for design, the creative team at Saffron had the tools they needed to form a new brand identity that could hold the vast range of human experience the metaverse was striving to offer.
Could your brand identity use a cultural refresh to encourage more engaged and meaningful customer interactions? Get in touch to find out how we can help.