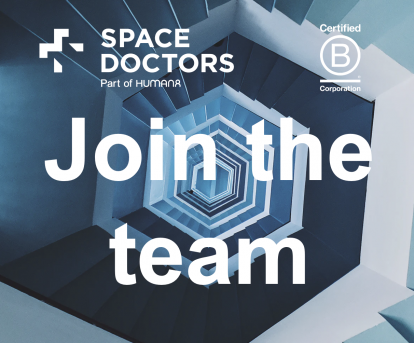 October 2023
Based : London or Brighton
Space Doctors (part of Human8 and a certified B-Corporation) are hiring! We have a position available in London or Brighton (2 days per week in the office) for an exceptional cultural analyst – someone who is not only passionate about semiotics and cultural insight, but who is excited to learn about cultural analytics, creative strategy, foresight & speculative techniques, regeneration, and breakthrough ways of engaging with leading-edge consumers and those beyond the mainstream in order to transform how brands and businesses perform for the better. We're looking for people with 5-10 years agency experience (probably at PD or AD level) or exceptional applicants with a demonstrable interest and ability in the area of cultural insight and strategy. You will join a global team with offices across Europe, APAC and the Americas dedicated to delivering extraordinary insights and consultancy for brands and organisations like Microsoft, P&G and Danone, as well as working in close partnership with clients to help them make decisions that are environmentally and socially positive.
Elements of the role:
As part of our Insights team, you'll plan and conduct research that addresses our clients' challenges and surpasses their expectations

You'll be able to research and identify cultural insights clients will find valuable and inspirational

You will enjoy collaborating closely with a global team of insight, strategic and creative professionals (offices in Europe, Asia and the Americas)

You're excited by cross disciplinary working across multiple platforms (which could include our cultural AI & analytics tools) to develop recommendations for our clients

Your understanding and passion for brands, cultural narratives and semiotics means you can naturally tell compelling stories
More experienced candidates will also demonstrate skills and experience in the following areas:
You can be lead contact for your clients and will enjoy growing on-going partnerships with them, ultimately contributing to the growth of client accounts

You'll be skilled at creating the project structure, managing the project through to delivery, and interfacing with our analyst network.

You'll contribute to building Space Doctors external profile – through events, marketing, new business, conferencing and be able to talk about what we do and the difference we want to make

Experience with client leadership & management is important, as is a proven ability to work across multiple teams and projects
Are you…
Passionate about understanding culture to inform imaginative and progressive new ways forward?

Intellectually curious, open and aware of culture and communications, and able to read culture and come up with an interesting point of view?

Able to frame and reframe your thinking?

A skilled communicator; engaging, clear and entertaining?

Proactive, with clarity of purpose?

An agile thinker and problem solver, able to improvise?
Space Doctors pays competitive salaries and provides a supportive and stimulating working culture alongside an excellent benefits package to our team.
If this sounds like you, please send a cover letter, CV and anything else you would like us to look at to apply@space-doctors.com by the end of the day on Friday 27th October.
No agencies please.
We regret that we might not be able to respond to every application we receive.