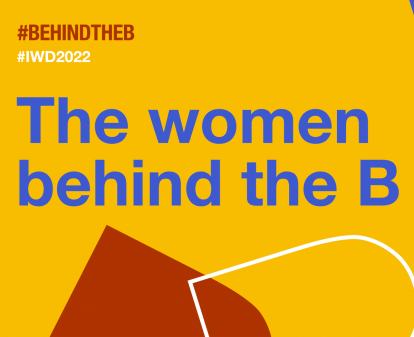 It's a happy coincidence for us that International Women's day falls during B Corp month. It gives us an even more significant opportunity to celebrate what we owe to the remarkable women of Space Doctors, and how they lead and challenge us to be a B Corp business elevated by ethical values and practices.
The theme for this year's International Women's Day is 'gender equality today for a sustainable tomorrow'. The goal is to platform the pivotal role women undertake in climate change response, and how their participation and leadership results in more effective climate action for a more sustainable future for everyone. Environmental and social progress are deeply codependent – we can't achieve one without the other. And, as a B Corp, Space Doctors is always striving to do better with that intersection front of mind.
We're proud to be part of the B Corp mission to transform the global economic system to benefit all people, communities, and the planet. Last year, we were recognised as The Best For The World™ B Corp in the Workers impact area, achieving a top 5% score by putting in place exemplary employee-friendly practices, such as ownership opportunities, job flexibility, and fair-chance hiring policies. This puts us in the grateful position to be able to share our knowledge and learnings of best practices, and today we're grasping the chance to spotlight the brilliant women that got us to this point.
Space Doctors was co-founded by our CEO, Fiona Mcnae, a trailblazing leader whose insight and determination continue to open doors and inspire us to chase and create the best work. Our highly successful Singapore branch is run by a fully female team, our global senior leadership has diverse make-up which extends beyond gender alone and our vast associate network allows us to work with inspiring individuals from varied cultures, backgrounds and perspectives around the world on a daily basis. We see our community and its inclusive gender representation as an opportunity to go beyond optical inclusivity and towards a better, stronger business model.
To discover, challenge and create in a way that's exciting and relevant to our audiences, our organisation needs to represent the diverse cultures in which it operates. We need to view gender inclusivity as an organisational imperative to be practised all the time, not just as a box to be ticked. Having an intersectional perspective on the world is not only a powerful asset for our work as a creative consultancy, but it's essential for Space Doctors as we strive to collect and implement the most progressive cultural insight possible for our clients.
When we really elevate women's voices, communities thrive and things get done. The women at Space Doctors make us more powerful, creative, compassionate and future-focussed. But we can always do better with inclusive actions. As UN Women puts it, "without gender equality today, a sustainable future, and an equal future, remains beyond our reach." As Space Doctors looks ahead to a more sustainable future for both our business and the wider world, we'll work to champion the diverse perspectives that need to be seen. Happy International Women's Day!