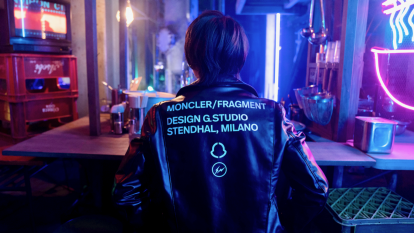 Our interconnected world, in which brands need to appeal to several regions simultaneously, has made local translation of values, core concepts and brand positionings trickier than ever. As a result, brands are turning to innovative partnerships and new methods of staying culturally relevant.
When a brand's values are clear and uncompromising, and the originator and target cultures are relatively similar, successful translation of brand identity is relatively easy. (For instance, Ben & Jerry's expansion of its US social justice-focussed messaging to include criticism of the UK's actions towards channel-crossing refugees).
But for more significant cultural differences, and complex categories – like luxury – brands don't only need awareness of dynamics in the target culture, but expert translation of them.
There are a few different ways to go about this.
Many brands use influencers or KOLs for creative strategy, not just promotion – as when Brooks Brothers partnered with Scarlett Hao to translate the LBD (little black dress) for a Chinese audience. Others partner with well-known local brands. Fenty Beauty would be unlikely to partner with Starbucks in the US, but in China, its collaboration with HEYTEA was a hit, applying the same carefully playful aesthetic to a cheese-and-peach drink and a limited-edition makeup bag.
There's also the option of giving more power to carefully-hired local staff, even to non-executives.
Hermès has enjoyed consistent Chinese success by realising that in an enormous and diverse country, even a Chinese centralised brand team might not hit on optimum presentation for every one of the 26 stores.
The brand's answer is to let local managers adapt – within guidelines – their stores' look and feel, to appeal to local shoppers specifically. And it clearly works: when China relaxed its Covid-19 quarantine, one Guangzhou store took $2.7m in a single day, flooded with shoppers to whom visiting their local Hermès means "getting back to normal."
This distributed method of branding strikes at the heart of the luxury industry's traditional 'lone genius' creative designers or innovators. In that conception, cultural relevance comes from a single person, duo or small group regarded as unusually able to pick up on cultural shifts and specificities. From Coco Chanel to Kanye West, many of these creators have become icons.
However, this method of staying culturally relevant makes a brand very vulnerable.
Uncontrollable factors, like the creator's age, nationality, state of health or shifting ideology, can produce creator actions that damage branding and reputation. We saw this difficulty with Dolce & Gabbana's culturally insensitive chopsticks ad (featuring a Chinese woman trying to eat pizza with chopsticks) and Stefano Gabbana's subsequent anti-China social media posts. In addition, having a single decision-making voice makes it hard for other employees to provide guidance, fresh ideas, and cultural data.
Another luxury brand, Moncler, has seen another way.
Once a simple technical outerwear company, Moncler now achieves broad cultural relevance, earning $1.5bn annually from fans around the world.
Internal, non-consumer-facing initiatives are part of Moncler's cultural advantage. Its MAKE training eco-system uses the brand's real strategic challenges as learning tools. That creates not just immersive training, but an avenue for junior employees' ideas to reach the senior people delivering the training.
But Moncler's most exciting cultural relevance strategy is its Genius Creative Hub. Since 2018, the brand has offered monthly collaboration drops with a wide variety of designers. For every 'edition', Moncler partners with seven or eight designers from across the world, creating diverse offers for a variety of tastes.
The Genius Creative Hub provides the idiosyncratic cultural pulse delivered by a traditional luxury creative, with no risk of ideas getting stale. And monthly drops are in-tune with modern and younger luxury consumers, who don't shop seasonally but iteratively and responsively. Cultural shifts can be reflected within a month, keeping the brand constantly top-of-mind among fans.
The speed also helps Moncler to meet consumers where they are. The brand's February Weibo livestream – launching a collection with Japanese streetwear legend Hiroshi Fujiwara's studio Fragment – was one of the luxury industry's most successful pandemic promotions. The stream included streetwear influencer Li Chen acting as host, actress Song Qian trying on the clothes, and comedian Pang Bo entertaining, against two backdrops: a stage set and a pop-up ramen noodle stand.
The collection sold out on the day, and the livestream got 31.5 million views (Gucci's Weibo livestream record is 25 million). The event felt not just exciting, but very Chinese.
Moncler intends to keep going with livestreams, collaborating with KOLs to ensure that its drops feel fresh and relevant to local culture. Each livestream, CEO Remo Ruffini says, will be 'inspired and designed to perfectly fit digital platforms as the first touchpoint with the customer' – tailoring experiences for its most passionate consumers, wherever they are.
If you'd like to chat to us about how to translate your core values in a truly local way, please get in touch.
For more like this straight to your inbox, sign up to our newsletter.
Image Credit: Moncler FRGMT Hiroshi Fujiwara, via Moncler