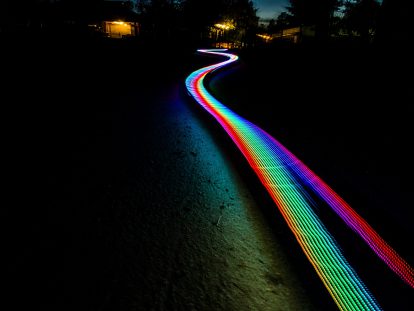 By now, we all know that the desire to be an ethical consumer isn't a flash in the pan – and it's not purely altruistic, either. Climate crisis feels vivid and immediate as we experience wildfires, pandemic, and resource shortage, while realignments of political and social priorities cause disruption and uncertainty.
In a world in which a disease can move from zero to worldwide mortality and economic devastation in less than a year, consumers value agility and resourcefulness – for themselves, their families, their communities and the businesses they depend on – more than almost anything else.
Of course, launches of hot new products will still feel exciting and relevant: come hell or high water, the new iPad Air will sell big. But dominant heroization of new ideas and new productions is giving way, in favour of a new model of brands as master organisers in a world full of confusion, inefficiency and waste.
While there's still huge appetite for virtue-as-lifestyle products like bareMinerals' vegan lipstick, Stella McCartney's recycled cashmere and KeepCup's reusable cups, introducing similar products isn't enough to make a brand truly relevant to the world of 'good business.' (This is especially true when a company's ethical or sustainable offering is accompanied by many non-sustainable products.)
Instead, consumer focus is on the business's own ways of operating: its dedication to creating a less destructive world of consumption for everybody, rather than simply offering an option for the most conscious shoppers.
 In the near future, businesses will feel most welcome and most relevant when their innovating impulses are turned to radically efficient organisation, rather than moonshot creation. This aligns with changes in what 2020's culture values in individuals: understanding, responsibility, empathy and community spirit, rather than display, arrogance and competitiveness.
Enacting these values can mean taking a consumer-facing educational role. ThredUp, for instance, is famous for its sharing-economy resale clothes service. But last year it went further, partnering with JCPenney's and Macy's to create second-hand sections in department stores to educate users 'in their forties and older' – non-digital natives – about online resale.
'Good business' also means taking meaningful action in non- or less-consumer-facing aspects of a brand's operations.
Most consumers have never heard of Footprint. But the packaging company's plant-based plastic replacements are used by consumer-famous businesses including McDonald's (compostable cup lids), Beyond Meat (fibre-based sausage trays), Chick-fil-A (paper straws) and MillerCoors (biodegradable six-pack rings which degrade in saltwater after 12 hours). By implementing sustainability in non-core elements of their businesses, these brand names boost their relevance to consumers who want to know that their purchases aren't causing destruction.
Solutions like Footprint's can be scaled by simple investment: not just of cash, but of existing skills and experience.
A quick look on a design blog like Dezeen will surface innovative upcycling prototypes any day of the week: from Mater's stools made from insulin pens, to Reykjavik design studio At10's bioplastic animal-skin meat packaging, to Elena Amato's kombucha-leftover cosmetics packaging. But Footprint partly credits its ability to scale its own sustainable packaging to its founders' experience at Intel. If more businesses and entrepreneurs apply their corporate know-how to innovative starting points like these, we can expect more sustainable solutions to become quietly commonplace.
Another advantage of size is a business's capacity to make maximum use of the resources available, whether they're material, cultural or digital. Large companies and organisations can aid sustainable business by reusing resources previously understood as 'waste.'
"Waste is simply material without an identity," says architect Thomas Rau: a phrase recalling anthropologist Mary Douglas's influential 1966 declaration that dirt is "matter out of place." Rau is working with the city of Amsterdam to create databases of reusable materials embedded in buildings. Rather than simply demolishing old buildings and rebuilding fresh, new construction projects can start by using Rau's databases to extract and reuse existing materials.
The insight that one company's waste product is another's key resource is being applied with inter-industry projects like Regrained. Beer companies regularly trash the excess grain left over from brewing; Regrained turns that 'waste,' which is actually nutritionally dense, into supergrain bars.
We can expect to see 'unwasteful' brands like these emerge as organisations like The Plant in Chicago encourage manufacturers to think outside the box. By putting a variety of food production businesses in the same facility, The Plant creates a single, collaborative closed loop as diverse businesses find ways to make each other's waste into their treasures.
Over the last year, agile business responses to Covid-19 saw perfumeries and breweries become sanitiser manufacturers, nightclubs and resorts move online, and supermarkets support the most vulnerable. Now, we all know what can be possible when businesses agree to act urgently and cooperatively.
And the ethos of effective organisation – of harnessing and using every single resource we have – will be the dominant decider of relevance in the coming era of adaptation.
If you'd like to chat to us about how we can help you cultivate brand resilience and make a meaningful difference through 'Good Business' initiatives, please get in touch.
For more like this straight to your inbox, sign up to our newsletter.