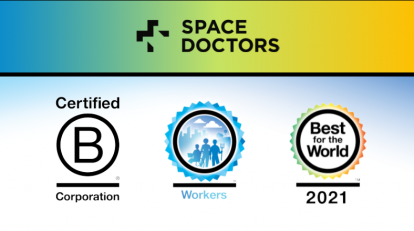 At Space Doctors we are beyond happy and incredibly proud about being recognized as one of the Best for the World™ B Corps of 2021! 
The Best for the World are B Corps whose scores in one or more of the five impact areas assessed towards the certification reach the top 5% of all B Corps worldwide. At Space Doctors we have been recognized for our efforts in the Workers area: 'Your best practices in work environment aspects like compensation, benefits, training and ownership opportunities not only contribute to better conditions for your employees but also mark the pace and set an example to follow'.
As all B Corps are already businesses that meet the highest standards of verified social and environmental performance, public transparency, and legal accountability to balance profit and purpose, this is a recognition that makes us incredibly proud!
We're delighted to be Best For The World and a part of the global #BCorp community.