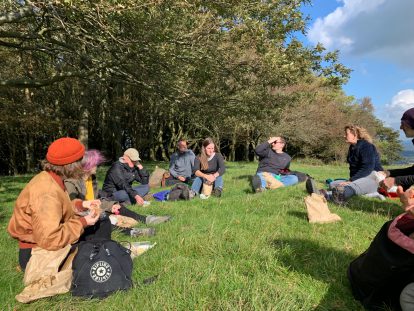 Life is all about learning. As characteristically curious and research-driven people, the Space Doctors teams are lucky to work globally on complex cultural and strategic questions. We love what we do, but we're not immune to the fatigue that piles on from the inevitable amount of screen time it takes to connect.
Last month, after a long year and 7 months of keeping up with hybrid working and digital acceleration, we needed to disconnect to reconnect; to spend some proper time together. No screens allowed. That's why our Hove and London teams called on Nigel Berman and his team at School of the Wild to take us outside for a very different learning adventure – a day of connection, creativity, and mindfulness.
Once both teams had met at Lewes train station, we set off on a long walk across the Sussex Downs, just a stone's throw from our Hove office – lucky us, right? As we walked, talked, and listened, racking up around 18,000 steps (but who's counting?), we soaked up our surroundings and enjoyed the feeling of being physically present and connected.
Nigel listened closely to our needs and built a varied itinerary of activities around them – all with nature at the heart. We ended the day (well, before it really ended at the pub, as all company days out do) around a campfire – sharing tea, toasting marshmallows, and trying our hand at various crafts. Although it was unusual at first, we quickly discovered together how creatively enriching it is to lean into simplicity and use our hands to physically and mindfully try new things.
In Nigel's own words: 
We bring leaders and teams outside to help you reconnect, think differently and work together better. Working at the intersection of people, nature, and change, we provide an opportunity for you to have a meaningful conversation with your team about the future direction of your organisation and how you work together. It's all done outdoors and it's fun!
Simple but stimulating, different but natural, close to home but totally refreshing, a day with School of the Wild was exactly what we needed to reenter collaborative work with stronger connections and more open minds. Why not get in touch at nigel@schoolofthewild.com to see what they can do for your own teams?